It is Valentine's Day on my candy love. It starts on 11 February, and it will last until 20 February. You are going to play this event as Hyun, Rayan, Nathaniel, Castiel and Priya. You are going to organize the perfect date for your Candy. By doing that you have to play a mini-game. You have to click really fast on your phone while your Candy is not looking. If you don't succeed with the mini-game you can try it again with using a heart. You will start this event with three hearts. You will get a new one each 19 hours. If you have run out of hearts you can also play the mini-game again for 20 AP. You can also skip the whole mini-game for 45 AP. With the mini-game you will unlock a dialogue. You can start the dialogue with spending a heart or 20 AP. In the dialogue you will be chatting with your Candy, to find out what she likes. While you are chatting you have to enter the right choice. If you answer wrong, you can try again for 20 AP. With each right answer you will unlock an outfit item. After chatting three times with your Candy, you get to go on a date, and win your illustration. There is also a bank outfit. In total, you can get 3 outfits and 5 illustrations.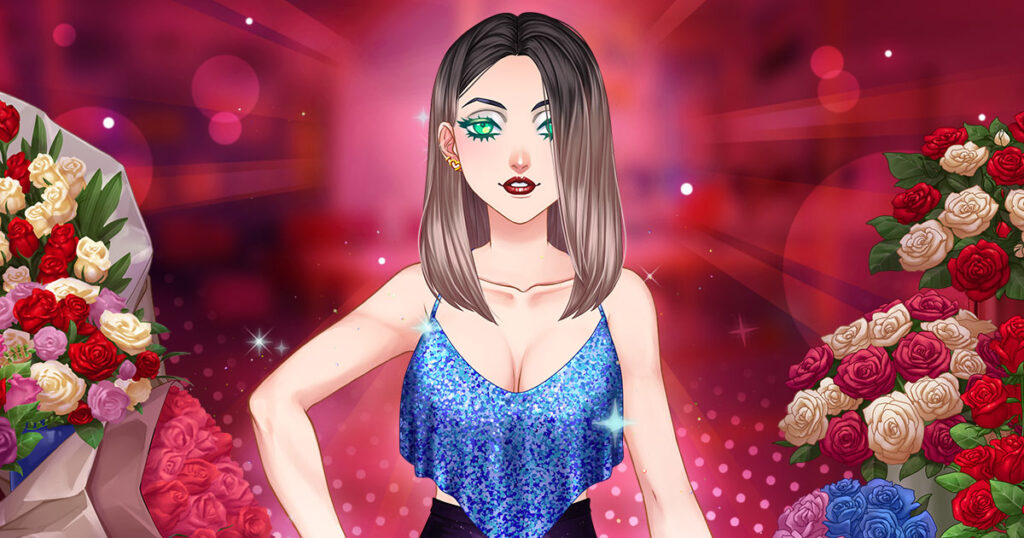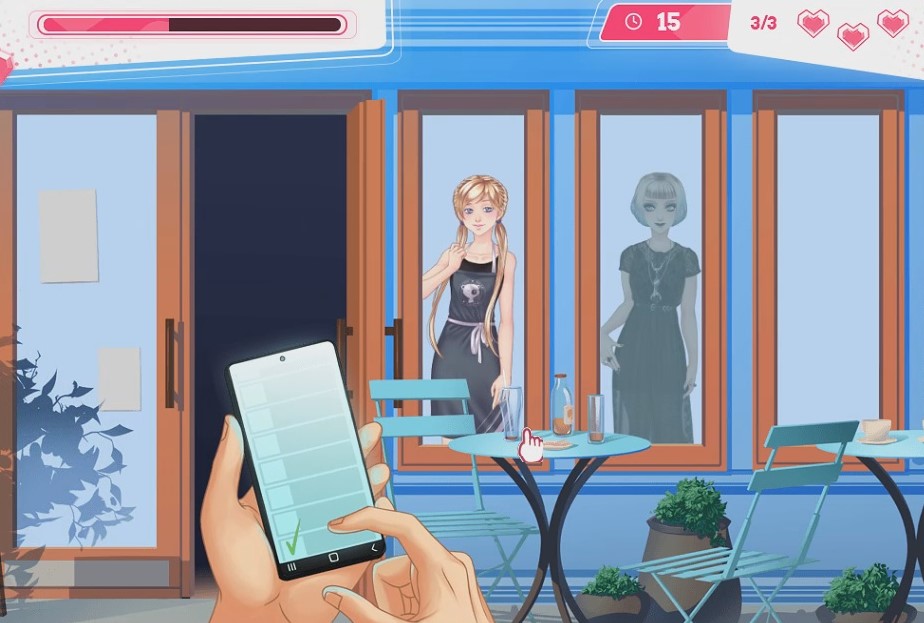 Here you can see the right answers.

Hyun: (Choice)
A. It's a bummer having to work when the weather's like this… It makes me want to get away! (Correct answer)
B. I'm going to make a stop in town to buy a few things for my next order… Need anything?
C. I want to try some new recipes… Remind me again, what's your favorite flavor?
Hyun: (Choice)
A. Wouldn't you rather go to the mountains for once, instead of the beach?
B. That's good to know… I wonder if Rosa and Leigh are tired of living on the coast year round…
C. Come to think of it, there are still a lot of things we've never done on that beach… (Correct answer)
Hyun: (Choice)
A. Just tell him it's not polite…
B. Tell him you get carsick! (Correct answer)
C. Time is money! He must know that. He'll understand if you tell him that… 
Rayan: (Choice)
A. We could go to a beauty shop and get a makeover… Or hey… even go shopping in a bunch of beauty supply stores!
B. For that matter, just imagine, if we had the afternoon off, what would you like to do? (Correct answer)
C. Is the pace really intense at the café? I hope things are going to calm down.
Rayan: (Choice)
A. I felt like going shopping. I'm almost out of cologne and deodorant and seems like you're almost out of perfume, too, right?
B. Chani asked me where you had bought your perfume. And… I couldn't remember the name of it…
C. I had that song "4 Non Blondes" running through my head: "What's up". You hum it every morning when you're putting on your perfume. (Correct answer)
Rayan: (choice)
A. I'm changing topics but… do you feel like anything else in particular otherwise? Something that'd really make you happy…
B. Something fruitier maybe? That'd really suit you.
C. Buying a perfume is pretty personal. It'd be better if you went to the store yourself… (Correct answer)
Nathaniel: (Choice)
A. Talked and dreamed about adventures, traveling… romantic weekends…
B. Planned our next romantic getaway. Is there a place in the world you dream about visiting?
C. Watched one of those animal documentaries you love so much… The ones that always take place in the most extraordinary places in the world. (Correct answer)
Nathaniel: (Choice)
A. Same here… I don't feel like going to work anymore this afternoon.
B. Even better than documentaries, you have White at home who is just waiting to cuddle up under a blanket with you. (Correct answer)
C. Don't you feel like something more fun than TV?
Nathaniel: (Choice)
A. And you, too. I hope you know that. I'm going to do what I have to so we can spend some time together soon.
B. Besides, she loves me too much to be really mad at me anyway.
C. Otherwise I'll be obliged to trade her for another pet… (Correct answer)
Castiel: (Choice)
A. I heard Mick Jagger does wild things when he gets a composition block. (Correct answer)
B. But I don't have many ideas of places to go… what'd be relaxing for you, for example?
C. I was thinking about taking off somewhere soon…
Castiel: (Choice)
A. Is there anything that tempts you more than being in a rocket?
B. We wouldn't be able to take Pancake, he'd be unhappy.
C. When you see the training astronauts go through, it must make you wanna puke… (Correct answer)
Castiel: (Choice)
A. Yes… bummer, there's no vacation on the horizon right away!
B. Too bad it's so inaccessible… We can always take a ride in a helicopter one of these days! (Correct answer)
C. I'm sure we can find an easier destination…
Priya: (Choice)
A. Hmm… Don't you have a sport that you liked when you were a kid? (Correct answer)
B. Maybe a sport isn't what you need. Why not try to come up with an idea of something we could do together?
C. Yeah… Speaking of going far… you're making me want to travel. We could go to the mountains, or to another country… How about it?
Priya: (Choice)
A. Haha, sounds like you're into extreme sports! (Correct answer)
B. Hang gliding, seriously? That kind of sport costs a fortune…
C. Can't you think of something a little more accessible?
Priya: (Choice)
A. Or else, we can move, to find you a mountain!
B. Or instead of a sport, maybe you'd enjoy a day at a spa?
C. But still, this sudden need for thrills… Are you alright? (Correct answer)
Here you can see the outfits with the prices if you want to buy another color.
Shine Bright
Sandals 35G
Skirt 50G
Top 45G
Bracelet 25G
Ring 15G
Aura 35G
Wig 65G
Earrings 20G
Garter 30G

Liquid Love
Lingerie 42G
Bodysuit 35G
Purse 30G
Shoes 38G
Bracelets 25G
Wig 60G
Pants 40G
Earrings 15G


Lover Idol
Wig 75G
Dress 70G
Shoes 30G
Letters 25G
Roses 30G
Bouquets 20G
Gifts 20G
Mouth 25G
Eyes 20G