It is Christmas on My Candy Love. We get two events this year. The advent calendar who starts December 1, 2020, and it will last until December 24, 2020. The cooking/dialogue starts on December 25, 2020. With this two events you can get one illustration, three outfits and one bank outfit.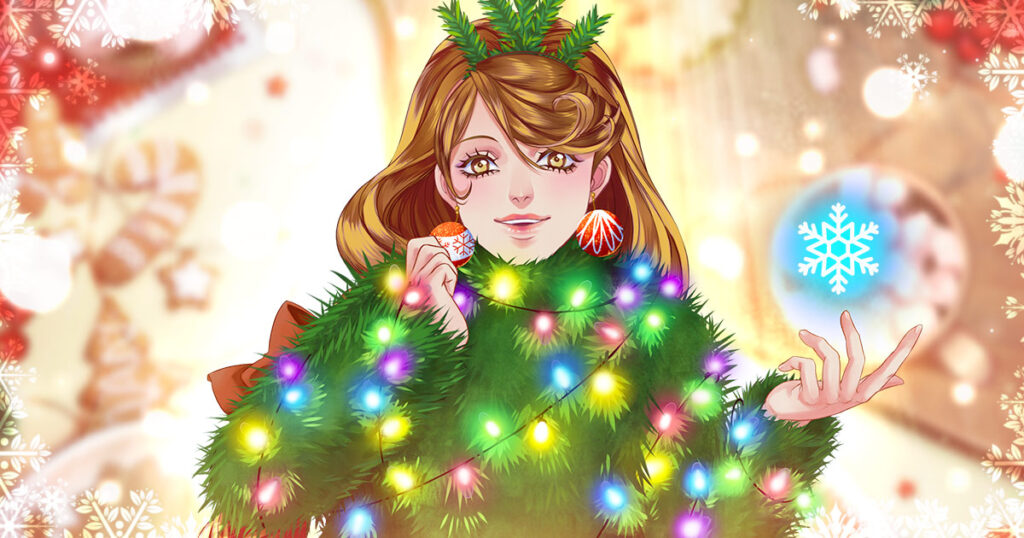 Advent Calendar:
Every day you can open a window with a surprise in it. If you don't want to wait a day to open the next window, you can buy the next window for 20 AP.  There can be outfit items, ingredients, tokens or a cooking recipe in it. When you have a cooking recipe, you have to make it. For that you will use the ingredients and the tokens. The cooking will take time to repair. You can skip the time with using your tokens, if you don't have enough you can buy more. 1 token cost 2 AP. With the last day you have to play a memory game three times. You will win 10 tokens with it. Here you can see what you can get every day the outfit items can be different.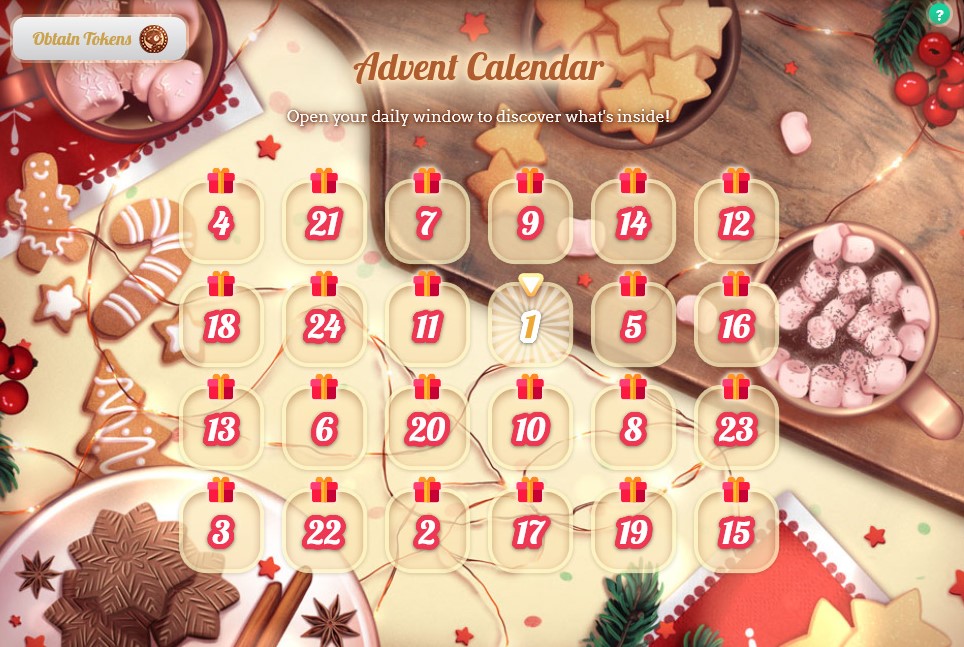 Day 1: Woolwool Cool Mittens
Day 2: 3 Cacao Beans
Day 3: 4 tokens
Day 4: Woolwool Cool Sweater
Day 5: 2 tokens
Day 6: 4 Cacao Beans
Day 7: Woolwool Cool Socks
Day 8: Cooking Window: Bar Of Chocolate
Day 9: 2 Sugar Cubes
Day 10: Woolwool Cool Nightgown
Day 11: 3 tokens
Day 12: 1 token
Day 13: 5 Sugar Cubes
Day 14: Woolwool Cool Warmers
Day 15: 2 tokens
Day 16: Cooking Window: Caramel
Day 17: 4 Flours
Day 18: Woolwool Cool Necklace
Day 19: Woolwool Cool Boots
Day 20: 5 tokens
Day 21: 3 Flours
Day 22: Cooking Window: Cake Dough
Day 23: Woolwool Cool Shorts + Wig
Day 24: Memory Bear Café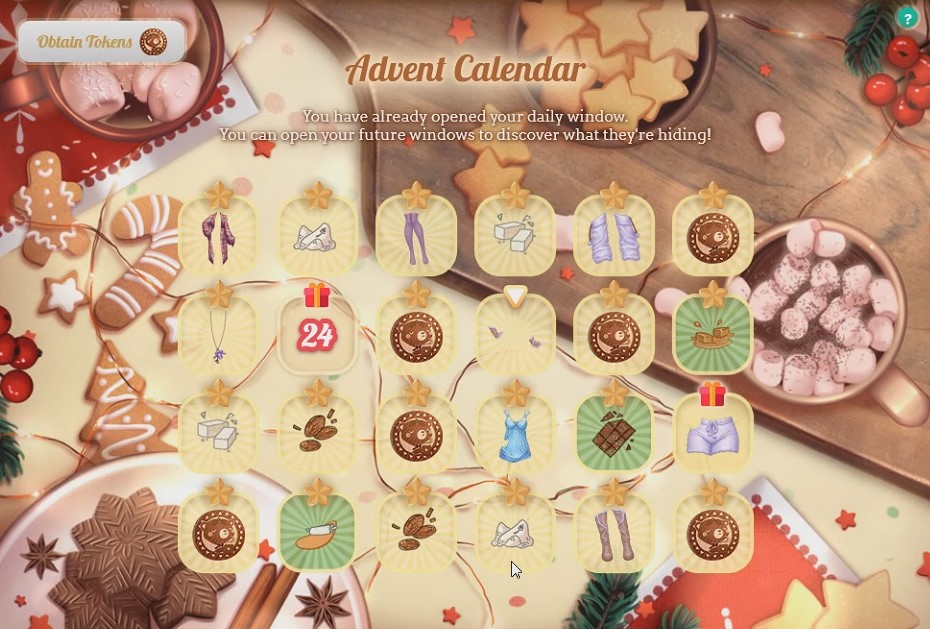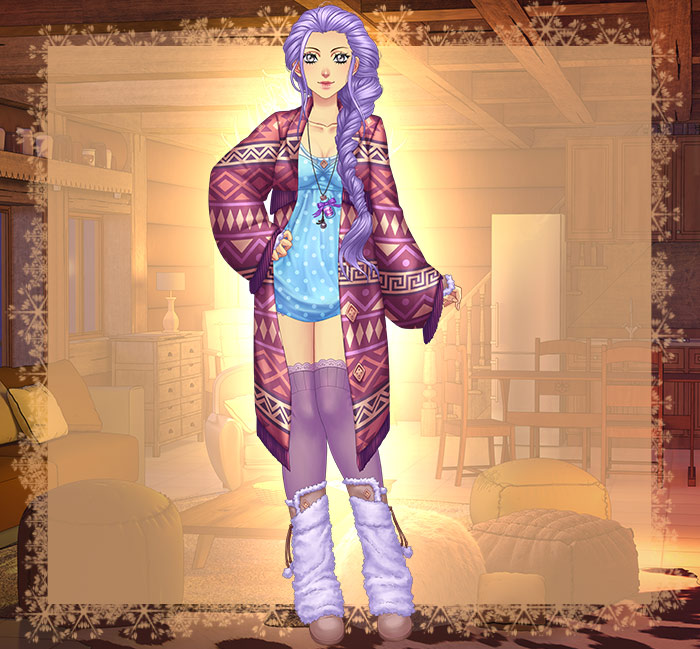 Woolwool Cool
Wig 75G
Shorts 35G
Socks 25G
Boots 45G
Warmers 28G
Necklace 20G
Mittens 17G
Sweater 65G
Nightgown 30G
Cooking/dialogue event:
You have to collect tokens and ingredients to cook 5 recipes. You can collect tokens by playing memory. The memory game you can play 3 times a day. There are 4 levels. At level 1 you get 2 tokens, at level 2 you get 5 tokens, at level 3 you get 9 tokens and I haven't been able to reach level 3+. So I don't know how many tokens you can get there. You can also still buy tokens. 1 token cost 2 AP. With those tokens you can buy ingredients to cook. The cooking takes time. How much time it takes depends on what your cook. You can speed up the time with tokens. Eventually you have to cook five main dishes. With each of those dishes you unlock dialogue. When you finish the dialogue and the cooking you can get outfit items. If you complete the whole event you will get an end dialogue and illustration.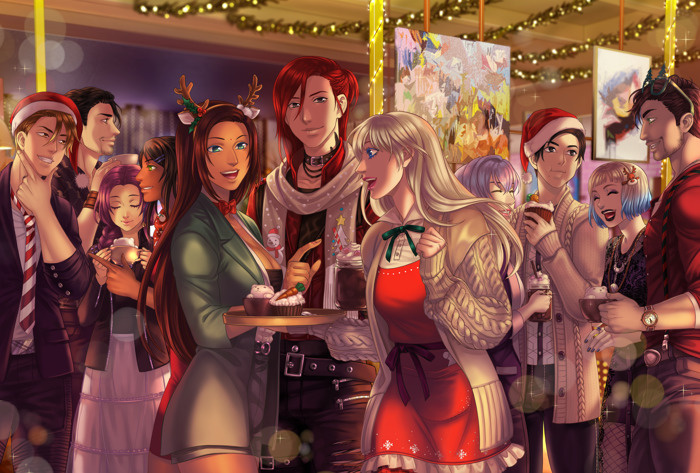 What you need for the 5 main dishes and what you get from it:
Teddy Bear Latté: Ginger bread and Sweetened Milk.
With the Ginger Bread you get the Wintertide Barista Pants.
With the Teddy Bear Latté you unlock I Am The Gift Rings and dialogue with Violette, Chani and Kim.
Comforting Chocolate: Hot Chocolate and Caramel.
With the Hot Chocolate you get the Winter Barista Apron.
With the Comforting Chocolate you unlock I Am The Gift Necklace and dialogue with Nina.
Spiced Coffee: Café Au Lait, Cream and Spices.
With the Café Au Lait you get the Wintertide Barista Shoes.
With the Spiced Coffee you unlock I Am The Gift Gown and dialogue with Eric.
Carrot Cake: Spiced Carrots, Caramel and Cake dough.
With the Spiced Carrots you get the Winter Barista Tray.
With the Carrot Cake you unlock I Am The Gift Shoes and dialogue with Yael.
Santa's Cake: Cream and Colored Cake Dough.
With the Colored Cake Dough you get the Wintertide Barista Sweater and Wig.
With Santa's Cake you unlock I Am The Gift Bow, wig and dialogue with Thia and Rosalya.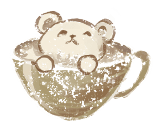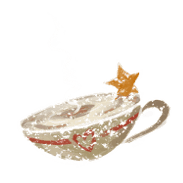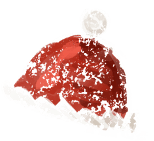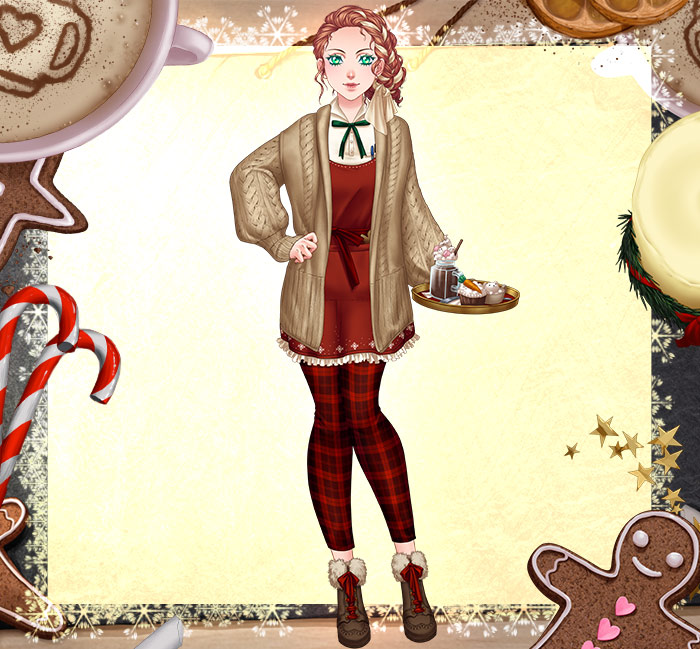 Wintertide Barista
Shoes 40G
Pants 50G
Apron 62G
Sweater 43G
Wig 60G
Tray 25G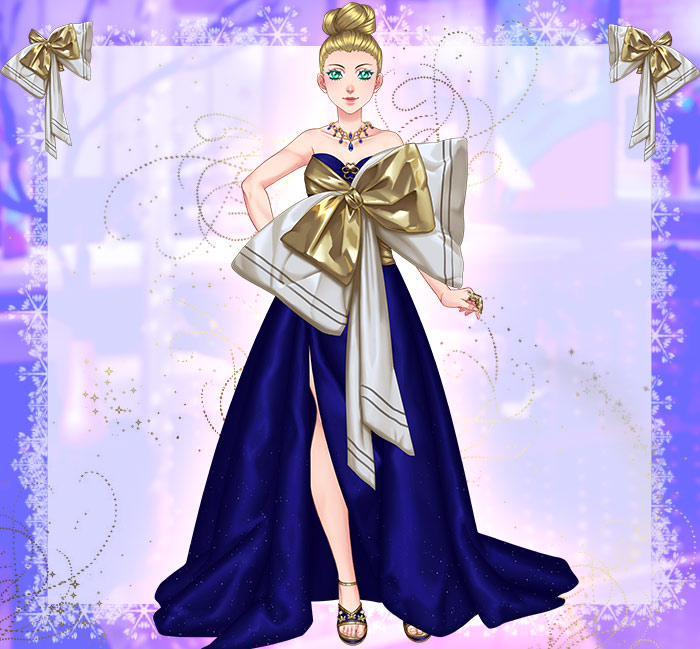 I Am The Gift
Wig 60G
Necklace 35G
Rings 22G
Gown 85G
Bow 48G
Shoes 30G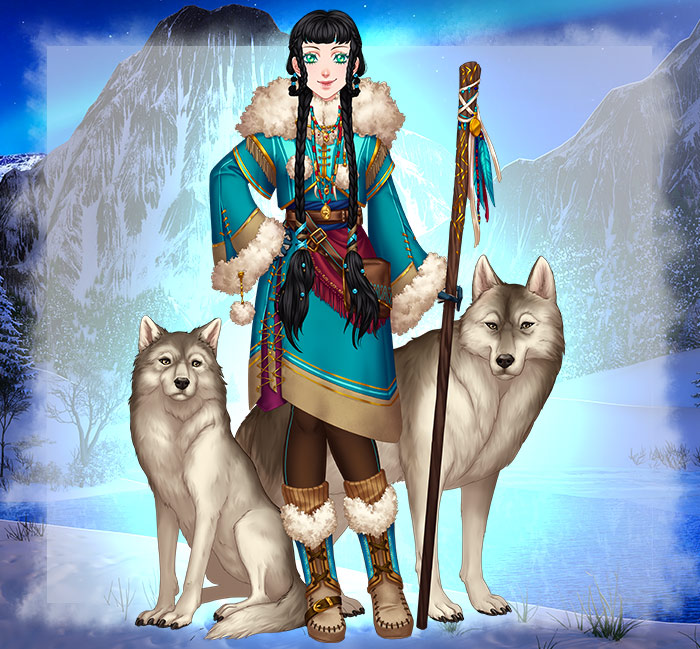 Wolf Tamer
Headband 10G
Wig 55G
Necklace 12G
Staff 20G
Belt 14G
Coat 45G
Gloves 22G
Tunic 35G
Boots 27G
Leggings 25G
Wolves 60G