– Negative result for LOM
/ Neutral result for LOM
+ Positive result for LOM
If an answer has / or + means my Love'O'Meter is at 100, so the result is either neutral or positive. If an answer does not have –, / or + beside it, it means I don't know the result. As soon as I found the right result, this page will be updated.

Special thanks to Trevisoitalygirl
Action points: 1500 – 1800 AP
Gold: 
Outfit Nathaniel 65G
Outfit Priya & Rayan 65G
Outfit Hyun & Castiel 65G
Fair Attraction 10G
Illustrations: 5 in total. You can get one out of five in a single play through. The illustration depends on outfit and dialogue choice.
Fairy/Auntie: in front of Sweet Amoris high school. You can find her when you go to café with your parents. You have to take the bus stop. You will get a cotton candy.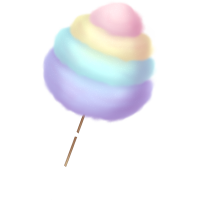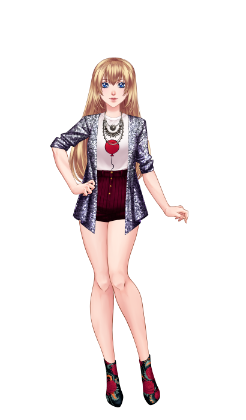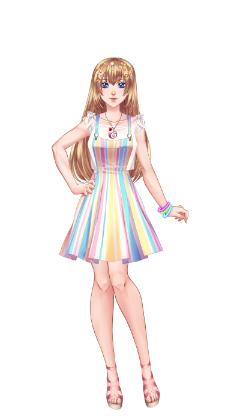 Outfit Hyun & Castiel 65G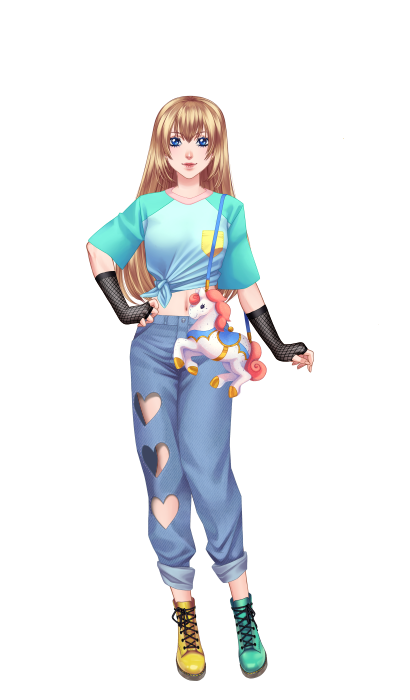 Episode guide:
This episode starts in the snack room. You are celebrating with friends the start of vacation. 
Alexy:
Hitchhiking, of course!
A. Hahaha, that's a trip you'll be able to take once you graduate! /
B. Alexy and his delusions of grandeur. –
C. Awesome! I've always dreamed of doing that! +
You will walk home with Chani.  
Chani:
(Choice)
A. She and I have kind of gotten closer and I think it'd be a good idea to include her when we go out… /
B. I thought she'd enjoy it. / or +
C. I found out she's anorexic and I want to help her. / or +
The next day you will just hangout in your room. The day after that you will have a study session with all your friends.
Amber:
It'll be a switch from studying alone in my hotel room.
A. It's cool you came. /
B. Are you doing better? –
C. Do you always stay in hotels? +
Rosalya:
O-oh, I…
A. She had a problem and had to get away, but what matters is that she's with us now. /
B. She was swamped with work! +
C. She was away on vacation with Leigh! –
Amber:
Hmm…
A. You don't look thrilled Amber? Come on, it'll be fun. +
B. That's a great idea Chani! /
You will walk home with some friends.
Hyun:
I don't know… I mean, yes… but I wasn't expecting to see Castiel show up…
A. I didn't know he'd be there either. +
B. Still, you hid how annoyed you were… You talked to him several times. / or +
Priya:
My roommate is going away on vacation next week and I'll have my room to myself…
A. Is the offer you're making me a night between your sheets…?
B. We'll have time to talk about it again between now and then…
C. Yes, yes, yes, yessss! I accept! /
Castiel:
That sounds like a good idea, yeah.
A. Come on, who cares. We'll just ignore the groupies. +
B. I get it… I guess we can abandon the idea of going out and doing that kind of thing together…
C. Come incognito, with a mustache and glasses! /
I… We can take the chance to talk on the way but I'm going to walk you back to campus.
A. Are you afraid of us ending up together at your place or what? It wouldn't be the first time that has happened…
B. Don't you feel like two of us hanging out some more tonight? +
C. Still… I would've liked to end the evening in a… "hotter" way, if you know what I mean. / or +   
Then you go to your room
Yeleen:
(Choice)
A. Is your mother coming tomorrow or what? / or +
B. Wow, you're still straightening up at this time of night…? /

The next morning your parents come by. You go have lunch with them in the cafeteria.
Then it's time to work. Your parents will keep you company.
On your way to work you can find the fairy. You will have to take the bus to sweet Amoris High. She will be in front of sweet Amoris High. Switch with the bus between the two places until she pops-up. If you go to the café; you object will change and then you can no longer meet the fairy.
Dad:
Rayan was telling us a few funny class stories and your mother digressed onto the subject that you used to sneak out in high school.
A. Gr-eat, less than two minutes to get onto an embarrassing topic in front of my professor. I think you've broken a record. / (+ with Rayan)
B. Other than that, would you mind trying to talk about something besides me? Your whole existence doesn't revolve around me, does it? / (– with Rayan)
C. OK! I shouldn't have asked that question. / (/ with Rayan)
Your parents want to take you to a special restaurant for dinner. You will go home to change.
Dad:
For sure, once you're at university, parents no longer get the chance to talk to each other. It's a pity.
A. Yep, in the last year of school, it's not bad to get by without your parents. /
B. Thank goodness at our age, we don't need you for our schoolwork anymore. /
Mom:
What about you, (nickname)?
A. Sure, why not… /
B. Sure, gladly. /
Yeleen and her mother will come with you to the restaurant. There you will have dinner for 5. When dinner is over, you go home. The next morning, Priya will wake you up.  
Priya:
Just before taking the oath, the court examines your case and, in particular, your police record…
A. Are you about to tell me you killed someone? –
B. OK, I'm still following… /
(Choice)
A. Do you want me to go to the appointment with you? +
B. Don't worry, I'm sure everything's going to turn out fine. /
You… you wouldn't mind going with me?
A. Sorry, but today, I absolutely have to finish working on something but… let's meet up right after the appointment, promise! –
B. No, of course not. /
(Choice)
A. Well, I think there's only one thing to do and that's get some fresh air and wait. +
B. Don't you want to call your professor? /
After spending your day with Priya you go back to the university. If you didn't spend the evening with Priya you will go to library and then to your room, otherwise you go directly to your room.
Then the next day will start. It is the day of the fair. You need a nice outfit.
(Outfit)
A. My high-wasted velvet shorts and my spangled jacket that I love! Except that… I can make up my mind… (Towards Nathaniel's illustration)
B. My hearted jeans with my unicorn bag, for a relaxed look! Expect that… I can make up my mind… (Towards Rayan's & Priya's illustration)
C. My candy-pink striped dress and a hat. That would be fit the theme perfectly, haha! Except that… I can't make up my mind… (Towards Hyun's & Castiel's illustration)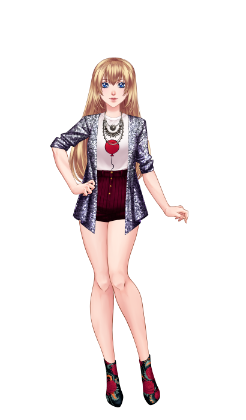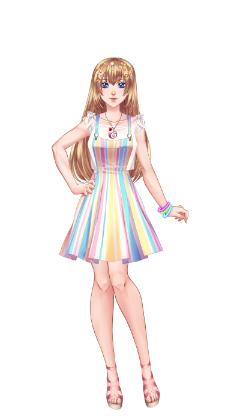 Outfit Hyun & Castiel 65G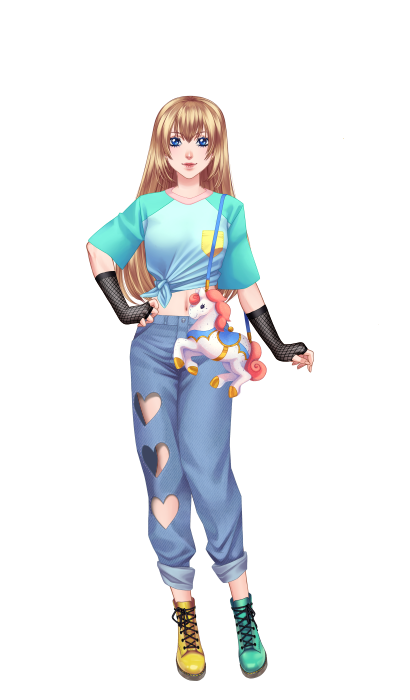 Now you can go to the fair.
Amber & Chani:
(Choice)
A. The last time I was in a house of mirrors dates back to when I was twelve. I'll be curious to see if I do as well as back then. + with Amber
B. I've never gone to a fortune teller in my whole life. + with Chani
Candy:
(Choice)
A. Personally, I'm up for a ride on the ghost train. (Rayan's illustration)
B. I've always wanted to try the flying swings. (Priya's illustration)
C. Who wants to go to the dart-throwing booth with me? (Hyun's illustration)
D. A fair isn't a fair without riding the roller coaster. (Castiel's illustration)
E. I've always liked the ferris wheel. I'd really like to take a ride on it. (Nathaniel's illustration)
You will go on the attraction you choose. The attraction will cost 10G.
Priya:
That I'm like this, against you…
A. I Think I'm getting used to the looks other people giving us.
B. I've been looking forward to seeing you again all day. No way I'm going to deprive myself of your arms another second. /
C. It's still strange, but it's really nice…
Rosalya:
Yes, sure, don't worry.
A. Everything going OK with Leigh these days?
B. I hope we'll be entitled to at least one actor who chases after us screaming, otherwise it's no fun. –
C. You seem to be doing much better than last week. It makes me happy to see you so well. / or +
Then you will go back to the group. You find out that Nathaniel is missing. Kim will call you. You hurry over to the gym. There you find Nathaniel. And then the episode will end.