It is Summer on My Candy Love. It starts 7 July 2022, and it will last until 19 July 2022. So you have 13 days to complete this event. It is a board game event. You have to make Dices, so you can go around the board. You can make a Dice with Refreshing Cocktails and Summer Scent. To make a Dice cost 40 minutes and 2 AP. Every day you can find three Refreshing Cocktails on the website. The Summer Scent you can make with Warm Sand and Turquoise Water. To make a Summer Scent cost 20 minutes and 2 AP. You can win Turquoise Water by playing the Catch It mini-game (you have to catch fish with nets). The Warm Sand you can win with the memory game (you have to find the same pairs). You can also buy another dice for 40 AP.
On the board, there are 36 places where you can land. There are three different things you can get on those places. An outfit item, a dialogue part or ingredients for the dices. The outfit places will give you parts for three outfits. The dialogue places will give you choices, with each good choice you will win a part of the illustration.
There is also a community bar. You can fill it by making dices. But it is a group effort. Because it depends on how many dices, everyone that my candy love plays make. So if the whole community makes enough dices, you will get the Sandcastle bonus.
You can also get one outfit at the bank. In total, you can get 1 illustration, 4 outfits and 1 bonus item.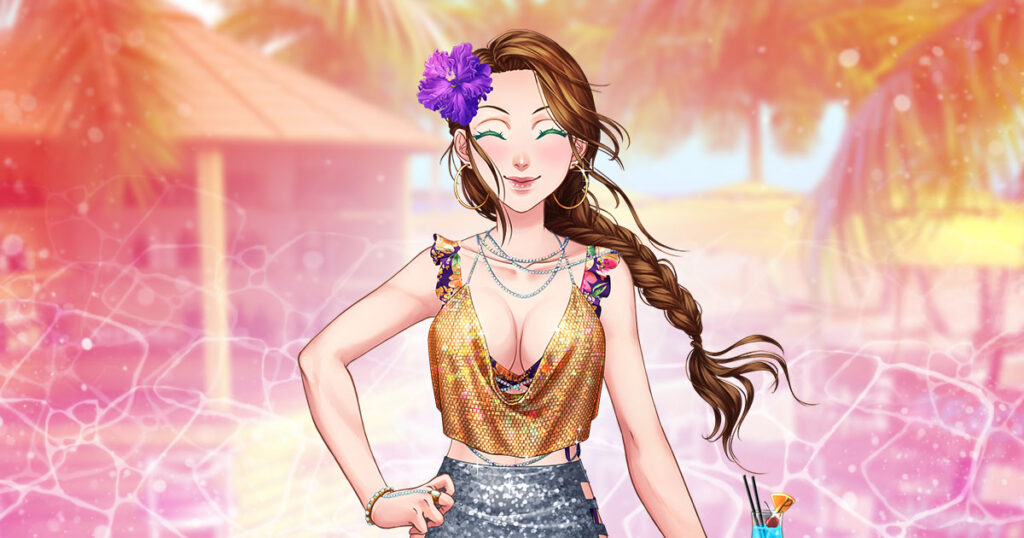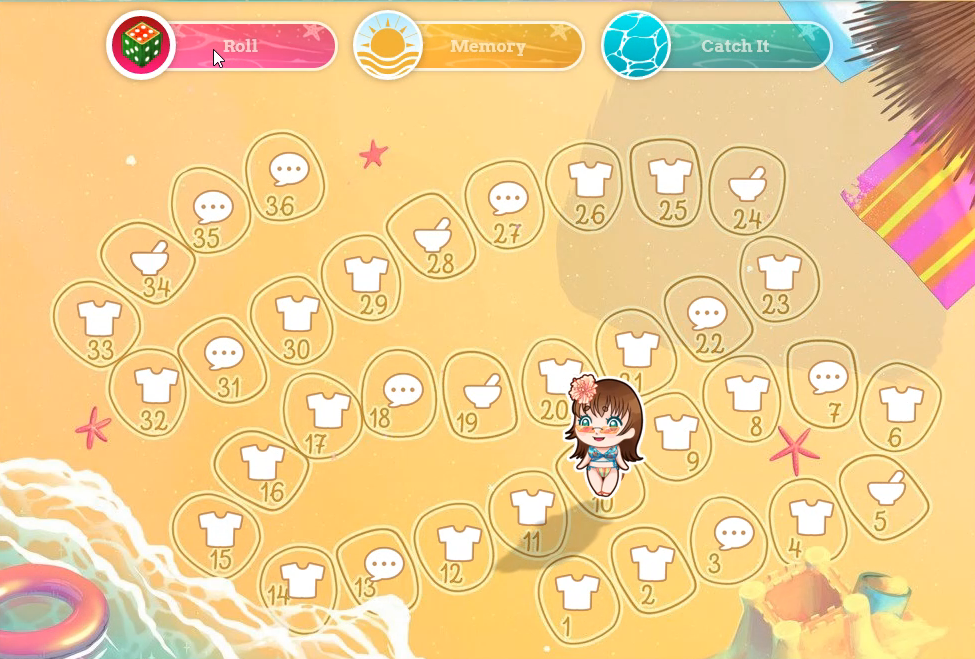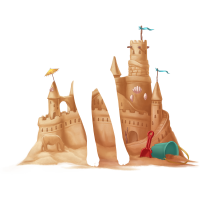 Here you can find the explanations of the places on the board



Dialogue:
On the places: 3 – 7 – 10 – 13 – 18 – 22 – 27 – 31 – 35 – 36.
In the dialogue, you will talk with the characters of the game. In each dialogue part, you will have to answer a choice. With a good answer, you will get an illustration part. With this link, you can see the illustration. If you answer the choice wrong, you can try again when you land on a dialogue places. The dialogue you get happens randomly.
Here are the right answers:
Priya:
I know what I want to do. Whether I'm going to get there is another matter… It's a bit… ambitious!
A. It really does look very big. Maybe you should only do part of it…
B. Hmm… It's big but if it's not too high, you can probably finish it before the end of the day.
C. At the same time, have you ever done things differently? (Correct answer)
(Choice)
A. Well… You tried. But we can't lie to one another… It's going to be complicated to win with… that. (Correct answer)
B. Hmm… It's not that bad. The tower is very impressive.
C. I didn't dare tell you earlier, but it was probably a bit too much, even for you…
Nathaniel:
Or something a little more rock'n'roll and unexpected, to take risks even if it means losing the competition?
A. Rock'n'roll? Oooh… You want to encroach on Castiel's territory? I like that!
B. Is it not by taking risks that you've obtained the most results in your life? (Correct answer)
C. You've always been a good student, Nath. Your strength is to achieve what is expected of you, but better. Build a castle.
(Choice)
A. Haha, all that's missing is a police car chasing the bad guys!
B. I don't know if Thia will like this take, but in any case, I'm impressed. (Correct answer)
C. Oh yeah! I'll say that I didn't expect that…
Rayan:
Would I be better off going in a modern, baroque or classical direction?
A. Have you ever been anything other than modern? You were the one teaching us about Game of Thrones in art history, after all… (Correct answer)
B. Baroque can be fun, right?
C. Classic, right? Aren't you always saying that everything starts there?
(Choice)
A. I like that! It is very complex, but intriguing.
B. That's rather bold of you to present such a complex castle to a child, don't you think? (Correct answer)
C. Ah… I imagined something more… I don't know… cubic.
Hyun:
I'd like to do something that's true to my style, and it doesn't matter if it's not a conventional castle…
A. That's an easy one! Make a sand cake! Plus, you're already super good at sugar sculpting! (Correct answer)
B. You could make a cartoon character. You love them, and it'll be a change from the classic castles.
C. How about a Cosy Bear castle? Remembering our university years…
(Choice)
A. You should have added a little bride and groom made out of sand, so that the creation is complete.
B. Wow! Nice, it almost looks like a castle!
C. You didn't make a cupcake? (Correct answer)
Castiel:
A plan that's so amazing that it should even leave me a bit of time to enjoy the beach… and the downcast faces of my hesitant competitors.
A. Whatever. I know you, you're going to improvise something at the last minute.
B. I think that you came to gain some inspiration from the other competitors.
C. That sounds like something you'd do. You act all casual, but in reality you always know exactly where you're heading when it comes to being creative… (Correct answer)
(Choice)
A. Ohh! So… you really didn't know what to do? What is that thing?
B. Did you place all your bet on size? It's not very subtle… (Correct answer)
C. Are you trying to evoke the Indian temple of Kuala Lumpur?
 Ingredients:
On the places: 5 – 19 – 24 – 28 – 34
You can find here Warm Sand and Turquoise Water to make Summer Scent. You will get three times 30 Warm Sand and two times 15 Turquoise Water. Which one you get happens randomly.

Outfits:
On the places: 1 – 2 – 4 – 6 – 8 – 9 – 11 – 12 – 14 – 15 – 16 – 17 – 20 – 21 – 23 – 25 – 26 – 29 – 30 – 32 – 33.
If you have been to all the outfit places, you get these three outfits. Under the outfits you see the price for each item, if you want to buy another color in the special event clothing shop. I also included the bank outfit.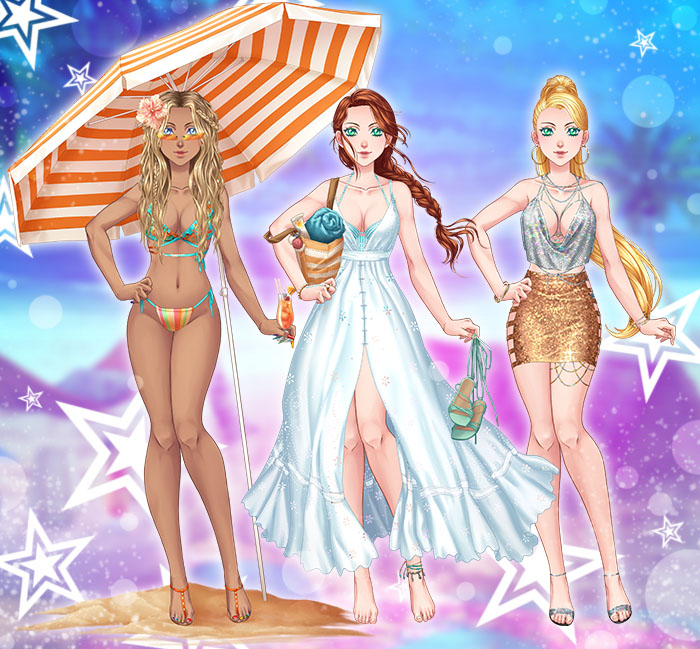 Beach Babe
Beach Umbrella 65G Variety 9 Total 585G
Nail Polish 30G Variety 9 Total 270G
Sandals 28G Variety 9 Total 252G
Bikini 42G Variety 9 Total 378G
Hair 50G Variety 12 Total 600G
Sunglasses 25G Variety 9 Total 225G
Flower 27G Variety 9 Total 243G
Cocktail 23G Variety 9 Total 207G
Total 2760G
Morning Sun
Bracelet 20G Variety 9 Total 180G
Sandals 35G Variety 9 Total 315G
Beach Bag 30G Variety 9 Total 270G
Top 30G Variety 9 Total 270G
Skirt 35G Variety 9 Total 315G
Ankle Bracelet 20G Variety 9 Total 180G
Swimsuit 45G Variety 9 Total 405G
Hair 60G Variety 12 Total 720G
Total 2655G
Midnight Sun
Hair 60G Variety 12 Total 720G
Lingerie 45G Variety 9 Total 405G
Garter 30G Variety 9 Total 270G
Heels 25G Variety Total 225G
Skirt 50G Variety 9 Total 450G
Top 55G Variety 9 Total 495G
Earrings 15G Variety 9 Total 135G
Bracelets 15G Variety 9 Total 135G
Total 2835G
Hummingbird Parade
Lingerie 40G Variety 9 Total 360G
Feather Train 50G Variety 9 Total 450G
Feathers 35G Variety 9 Total 315G
Body Jewelry 35G Variety 9 Total 315G
Shoes 40G Variety 9 Total 360G
Necklace 35G Variety 9 Total 315G
Bracelets 30G Variety 9 Total 270G
Shoulder Feathers 35G Variety 9 Total 315G
Hair 70G Variety 25 Total 1750G
Headdress 50G Variety 9 Total 450G
Headband 25G Variety 9 Total 225G
Hummingbirds 25G Variety 9 Total 225G
Total 5350G